Gratitude and positivity of Akwasi Frimpong make dreams come true
'Participation is more important than winning', it sounds like a curse in professional sports. Everything revolves around winning, everything revolves around gold. This is how I, Mark Tuitert, often look at it, but my eyes were opened last year for a different view. This came from a man who dreams of Olympic gold, but also wants to break a barrieries by being the first African athlete to participate in the sport of skeleton at the 2018 Olympic Winter Games.
A boy's dream
Through the Johan Cruyff College in Amsterdam, where Akwasi graduated, I got the tip to meet with him regarding my search for someone who would fit the image of positive energy. Akwasi subsequently visited our First Energy Gum office in the past year.
And a role model of positive energy he is! Akwasi was born in Ghana, raised as an illegal immigrant in the Bijlmer (a suburb from Amsterdam), and blessed with a great talent for sprinting. Football star Johan Cruijff was his biggest fan as a child. Akwasi works as a salesman of Kirby vacuum cleaners and goes from door to door in Salt Lake City. As a boy, Akwasi was already busy with his dream of competing in the Olympic Games. Unfortunately, there was always something in the way, so participation in the biggest sports event in the world is still no more than a dream.
From vacuum cleaner salesman to the Olympic Games
Akwasi told me about his plan to get the 2022 Games in Beijing. "Why not already in 2018?" I asked. He said: "Mark I have to arrange so much, the Ghanaian OC must acknowledge me, I have only a few smaller sponsors and I still have to improve a lot in my technique and thus train with a top team. I also want to give something back to the people in my native country. "
After graduating cum laude at the University of Utah, Awkasi now trains with the American sled teams in Salt Lake City. His athletic ability is recognized in the Skeleton world and his World Cup debut was not glorious, but had potential.
Often being told that there is no hope, you can either believe it, or you can stick to your dreams! Things turned around for the better and the positive news came quickly.Akwasi was awarded as an Olympic athlete! There is a good chance that Awkasi is allowed to compete in Korea 2018, instead of 2022. In order to qualify he needs points, he needs to compete in races and follow a professional training program. This also means that something is still needed: a sponsor who believes in him and supports him financially.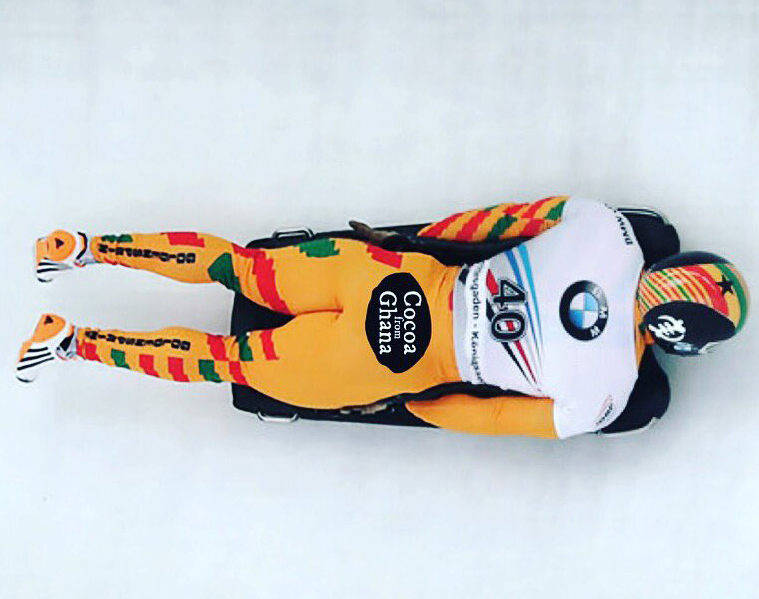 Coping with uncertainty
The uncertainty eats away at him. I hear it in his voice when we speak. "Do not give up now, Akwasi. We're going to take care of it and stick to your dream," I hear myself say. The first races are on the program, but the situation seems to get worse, day by day. No sponsor, no races, no ranking, a dream gone... There will always be a struggle behind the scenes of sports for an athlete who has to arrange everything himself, from PR to marketing to training to, well, everything.
There is no lack of media attention, the Olympic channel, CNN, BBC they all want to make stories with Akwasi, but why? It is a story about perseverance, never giving up, and swimming against the tide. It is a story that goes beyond just the quest for a medal. A story that we like to support with FIRST.
Sponsorship
The most needed word finally comes at the end of October. A seed that has been planted long before is blossoming. Cocoa from Ghana speaks of wanting to sponsor Akwasi, a gift from heaven and a perfect combination. A nice link between two parties that want to put Ghana on the map from the Netherlands.
Sometimes situations seem hopeless or too complicated. Awkasi proves, as I myself have experienced in my career, that perseverance is difficult, but that it can bring you a lot. If you do this with a positive and grateful attitude, you will gather people around you with the same attitude and then your wildest dreams may well become true.
FIRST Footnote
I was seized by Akwasi's positive energy. I am proud he is one of our FIRST Athletes. Next to our FIRST Energy Gum that Akwasi uses for his training, I try to help him with my experience in pro sports. His drive and gratitude are an example for me and also for many others.
Follow Akwasi through our website and through his and our social media channels.