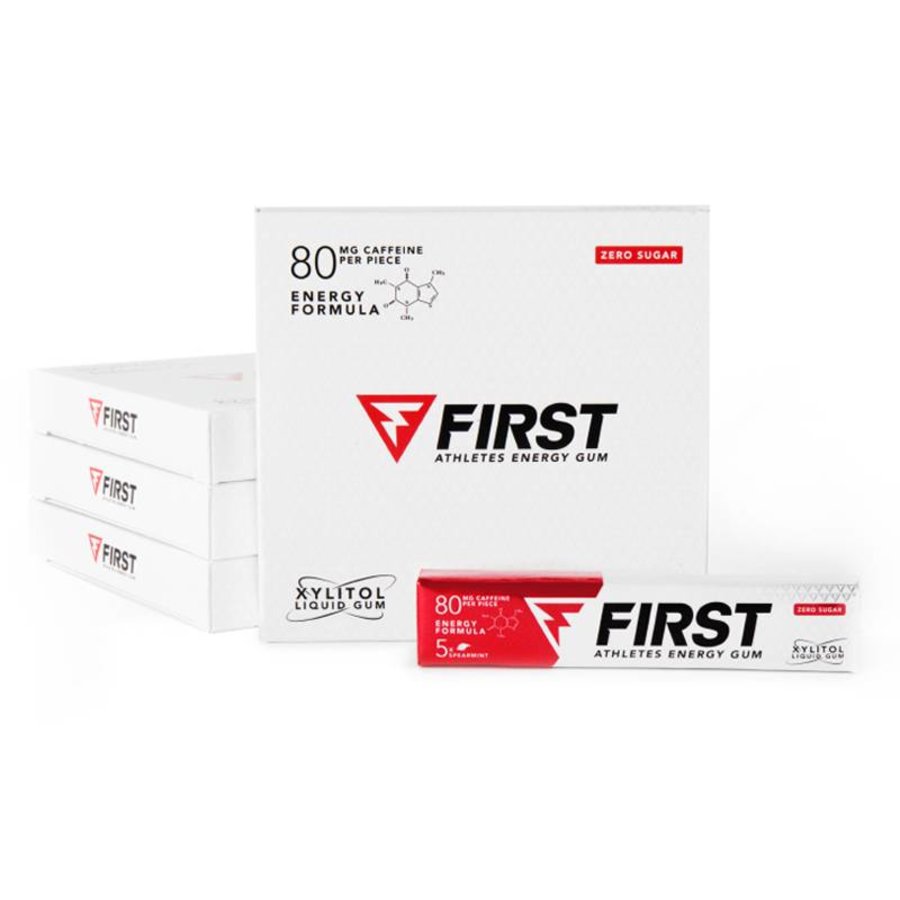 First Athletes Energy Gum 20 Pack
100 pieces = 500 hours of energy
Free delivery
FIRST Athletes Energy Gum is specifically designed for those who want to exceed their athletic performance. Fueled with caffeine and B-vitamins, every piece of gum provides a long-lasting, clean energy boost within minutes.
80 mg of caffeine
5 calories per gum
Works within 10 minutes
No added sugars
No aspartame 
No acesulfame
No artificial colors or flavors 
Spearmint & xylitol
Vegan & gluten-free 
Yvo
Super nu al aantal keren besteld wil geen andere kauwgum meer
Een FIRST Atletes Energy Gum bevat 80 mg cafeïne. Cafeïne verhoogt de mentale alertheid, verbetert geheugen en motivatie, en vermindert gevoelens van slaap en honger. FIRST werkt al binnen 10 minuten na inname.
Iedereen reageert anders op de werking van cafeïne en de meningen over de aanbevolen dagelijkse hoeveelheid zijn nogal verdeeld. We raden je aan om bij jezelf na te gaan hoeveel cafeïne houdende producten je consumeert zodat je rekening kunt houden met het effect van FIRST.
Pas als je hele grote hoeveelheden cafeïne nuttigt kunnen er ook bijwerkingen optreden, zoals: slapeloosheid, hoofdpijn, veel plassen, trillerigheid en een verstoorde coördinatie.
De cafeïne in FIRST Energy Gum komt via de slijmvliezen tijdens het kauwen in de bloedbaan terecht. Het effect van cafeïne is daardoor merkbaar binnen 10 minuten na consumptie. De cafeïne blijft in totaal zo'n 4 tot 5 uur in het lichaam aanwezig.
Xylitol, Gombasis, Maltitol, Natuurlijke smaakstoffen, Cafeïne, Sucralose, Niacin, Cirtoenzuur, B6 en B12.